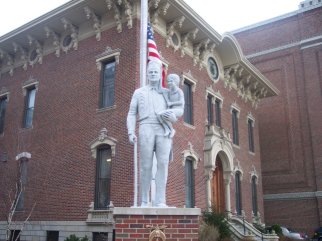 Mizpah Shrine
407 West Berry Street
Fort Wayne, IN 46802
Phone 260-426-4543
Fax 260-426-4544
---
Temple Grieves Loss of Past Potentates
Mizpah lost three Past Potentates in 2007. Illustrious Sirs Gene Lee, Ron VanHoozen and Tom Goss joined the black camel. Gene Lee served Mizpah as Potentate in 1980. The former Warsaw attorney and judge was well respected by his peers. Ron VanHoozen served Mizpah in 1984 as the Potentate. He was a member of the Chanters and was well known for his work in the Homestead area of Fort Wayne. Illustrious Sir Tom served Mizpah as Potentate in 1990. He was also an emeritus member of the Chicago Shriners' Hospital for Children Board of Directors. Tom also served the Great Lakes Shrine Association as President in 2004. These gentlemen contributed much to Mizpah Shrine over the years and will certainly be missed.
---
Officers Installed
The officers of Mizpah Shrine were installed on January 4, 2008. The officers were installed with Past Potentate James Lobsiger serving as Installing Officer, Past Potentate Richard Johnson as Installing Marshall, Past Potentate William (Mick) Ulmer as Installing Chaplain, and Noble Brian McNaughton performing the Shriner's Creed. Officers installed were Larry Chapel, Potentate; David Yarde, II, Chief Rabban; Roger Weaver, Assistant Rabban; Ellis Ryan, High Priest & Prophet; Owen Stiles, Oriental Guide; Ron Harruff, Recorder; Dick Kessie, Chaplain; Max Poorman, Captain of the Guard; Dick Monk, Outer Guard, Clayton Crum, Finance Committee, and Milt Krider and Kenny Fritz, Trustees.

Special Guests included Greg Walbridge, Senior Grand Deacon of the Indiana Grand Lodge and Rudy Mahara, Thrice Potent Master of the Fort Wayne Valley of Scottish Rite.
---
Screening Clinics Being Set Up
Mizpah Shrine hosts screening clinics throughout the year to help identify those children that will qualify for services at Shriners' Hospitals for Children. The current schedule is not completed. If you know of a child that may qualify for treatment at either the burn hospital in Cincinnati or at the orthopedic hospital in Chicago, please contact the Shrine office for information about the clinics and the application process. To schedule a clinic in your area, contact the office and leave a message for Karl Klemm.
---
GLSA Salmon Derby Set For May 14-16
The 34th annual GLSA Salmon Derby will be held on Lake Michigan in May. Fisherman from many Shrine Centers will descend on Michigan City for this annual Fund Raiser for Shriners' Hospitals for Children. Over 100 fishermen and their captains spend two days on Lake Michigan looking for the biggest fish in five categories. Winners walk away with trophies and other prizes. The net proceeds from this event are donated to the hospitals. To date over $280,000 has been donated to the hospitals. Registration is set for Wednesday, May 14 with fishing on Thursday and Friday. For more information, contact Mizpah Shrine.